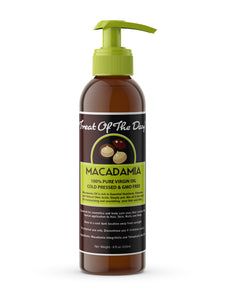 Macadamia Oil - Exceptional Moisturizer

100% Pure Virgin Oil - Cold Pressed & GMO Free
In case you don't know about Macadamia Oil's benefits and are wondering why more and more beauty companies are turning to it, then you're in good hands.
When you are born, your hair and skin are flawless.  As you age, Macadamia Oil can naturally help replace your skin's moisture and antioxidants. 

Macadamia Oil gets easily absorbed by both Skin and Hair for a better hydration, appearance and a more youthful glow. In addition to this, Macadamia Oil does not leave you with a greasy feeling.
Simply put, this oil is the best for moisturizing and nourishing your Hair and Skin. It matches Argan Oil's many benefits for hair with numerous additional benefits for both Body and Skin Care.

Best of all, our Virgin Cold Pressed Macadamia Oil costs a fraction of the price of other similar oils.

Treat Of The Day! Macadamia Oil is your excellent moisturizer. Great for cosmetics and body care uses that include the topical application to Hair, Nails and Body.

For External use only. Store in a cool dark location away from sunlight.

Ingredients: Oil Pressed from Macadamia Integrifolia and Tetraphylla Nuts.