Why Macadamia Nuts Are Good For You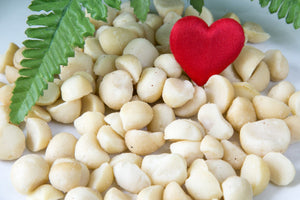 Heart Healthy Snacking
Macadamia Nuts contain no Cholesterol, are crunchy and taste awesome. These nuts are grown in nutrient rich volcanic and alluvial soils under Tropical Climates. This not only guarantees better taste, but also ensures a sweeter buttery quality.
Healthy Snacking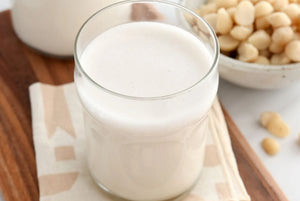 Macadamia Nut Milk
How about your own Homemade Macadamia Nut Milk that can be made with just 2 or more ingredients?!
It's Vegan friendly, Gluten Free and the perfect Dairy-Free milk
Macadamia Nut Milk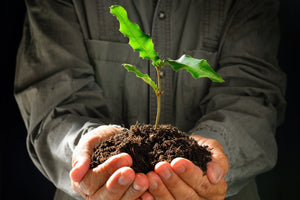 Your Purchase Makes A Difference
Every purchase you make at our online store goes a long way towards our 1,000,000 Macadamia Tree Planting Project in Kenya and Tanzania. Your purchase helps us plant more Trees and Makes the Earth's Air Cleaner & Greener
Sponsor A Macadamia Tree
You've really not had Awesome, until you've tried Treat Of The Day! Macadamia Nuts
For those who prefer raw unflavored nuts, please select the Raw Macadamia Nuts Option. We however recommend roasting the raw nuts in an oven for 12 Minutes at 240 Degrees Fahrenheit.


For all others we highly recommend our pre-roasted and Seasoned Macadamia nuts. These Seasoned Macadamia Nuts come in the following options:
a) Macadamia Nuts - Sea Salted
b) Macadamia Nuts - Sea Salted with Mild Chili
c) Macadamia Nuts - Sea Salted with Hot Chili


Ultimately, regardless of your choice, our Macadamia Nuts can be used to enhance the flavor of your cookies, cakes, confectionery, ice creams, salads, casseroles, pork, chicken and even beef roast. The natural oils from Macadamia contain 78 percent monounsaturated fats, higher even than that found in olive oil. Raw Macadamia Nuts are also a good source of many vital nutrients and minerals.
Macadamias are Keto-friendly due to high energy and nutrient density.
Make these ISO 22000 and FSSC 20000 processed "super nuts" your go-to cardio-protective and high energy food snacks. We offer Macadamia Snacks under our service mark, SNAX but please don't hesitate to reach out as we do also offer unbeatable discounts on wholesale and bulk quantities.
We ship everything from a few cases to whole 20 FT container loads under our Treat Of The Day! Brand
Buy a few packs today, share with your friends, and help spread the love for great taste and heart healthy snacking.
Help Us Fund More Macadamia Trees

Our Goal is to Plant 1,000,000 New Macadamia Trees By 2027
Buy a Macadamia Seedling

We'll Plant it on your Behalf for a Healthier, Greener & Cleaner Future
Quality is our Mission

We're Here to Deliver Great Tasting Macadamia Nuts
Help Us Fund More Macadamia Trees
Our Goal is to Plant 1,000,000 New Macadamia Trees By 2027
More Macadamia Trees
Buy a Macadamia Seedling
We'll Plant it on your Behalf for a Healthier, Greener & Cleaner Future
Sponsor A Macadamia Tree